2018 - 2019 NFL Playoffs and Super Bowl bracket pool
NFL Playoff Bracket
Run your playoff bracket pool online this year.
12 team bracket
Pick all 11 games, including the super bowl, before the kickoff of the first wildcard playoff game
Teams available for picking, shortly after last regular season game
Prompt score updates available
much more
Create a Playoff Bracket Pool
Tons of bracket pool features:
Easy for people to join
Top notch Customer Support
Several scoring options
See everyone's picks after deadline
Prompt score updates available
much more
What is an NFL Playoff Bracket?
We blended our traditional March Madness bracket with our popular NFL pickem pool to create an NFL Playoff bracket. Players make their picks for the entire Playoffs *before* the playoffs begin. Here's a glimpse of the screen where players make their picks: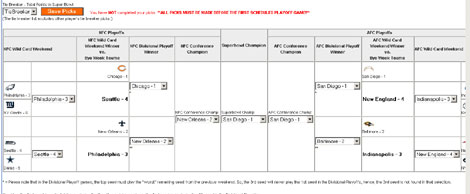 Click for larger image
Benefits of using our bracket pools:
Final scores for upgraded pools are updated every few minutes *.
Final scores for free pools are updated every night.
Easy sign up and pool creation.
There's no software to download.
Easily invite your friends. We have instructions ready for you.
Easy join process for your friends.
* = Scores for upgraded pools may take from 0 to 30 minutes before being updated.
Object of the Game
The object of the game is to get the most points.
In a playoff bracket
, each game can count a different amount depending on
which pool format you choose
.
A win could count as 1 point
(if you choose "Straight Pick'em") or as many as 16 points (if you choose a "Ranking/Confidence" or "Weighted" pool format). Each incorrect pick will earn you 0 (zero) points.
Once all the games are completed, a winner is determined, by counting how many points they earned from the number of winners they picked.
The catch is that
all picks, including the superbowl
,
must be made before the kickoff of the first wildcard game
. That is the essence of a
bracket style
pool.
Related playoff pools
SN: h2-mdmgames